How we began
Since purchasing Bibbaringa in 2007 over 70,000 trees have been planted, 100% ground cover have been achieved all year every year, and the water cycle has improved, along with plant diversity and soil microbiology health.
By applying the principals of Holistic Management, Natural Sequence Farming, Bio dynamics and education about the best ecological land practices and working with nature and the climatic conditions. Bibbaringa is now a functioning landscape. We watch the improvements each year despite variable climatic conditions.
Read more about how Carbon and organic levels are increasing and how water moves slowly through the landscape towards the Murray River.
Our Management Strategies
Manage land according to actual rainfall.
Utilise rainfall effectively by retaining good ground cover on the land.
Increasing biodiversity by retaining ground cover throughout the year and building organic matter and carbon in the soil profile.
Improving woody vegetation on land area by natural regeneration and tree shrub and grass planting programmes.
Create an environment that encourages perennial grasslands both native and improved species.
Planned grazing management. Fully recorded and planned according to actual grazing days per ha relative to pasture availability and rainfall consideration. All records are recorded on Maiagrazing program.
Grazing animals have an important role in our management practices.
Reduce inputs and best land management practice by reducing inputs and working with in the boundary of effective rainfall, changing season and grazing conditions.
Make your rural business more rewarding.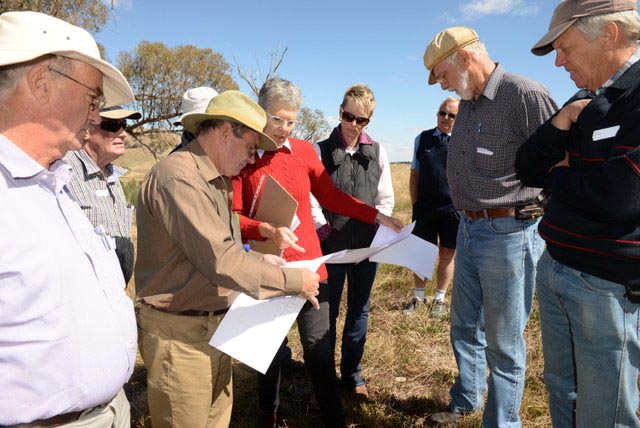 Climate champions visit Bibbaringa
Climate Champion
The Climate Champion Programme was a government programme aimed to help farmers manage climate risk by:
Giving farmers the best climate tools, products, practices and seasonal outlooks, and an understanding of how they might use that in their farm business
Giving climate researchers a chance to interact with farmers and get feedback about what regions and industries need from research.
40 Australian farmers from around Australia, representing most major agricultural commodities, took part in the program. Gillian has been a Climate Champion since 2010.
The program was a finalist in the Banksia Sustainability Awards for Leadership in Citizenship and Communities. It was also a runner-up for the 2011 Eureka Prize for Advancement of Climate Change Knowledge.
At Bibbaringa I look at the landscape from a creative perspective. Land managers are artists of the landscape. Every mark I make on the land is a pattern on the land. Every fence line, subdivision, contour or water storage has an effect on something else in the landscape. We need to be mindful of our impact on the land we manage
See what Gillian has to say about
The decision: to destock entirely
carleyalchin
2021-01-22T08:22:13+11:00
Season to season, around October/November, March/April, I usually make some pretty big decisions.
The last 12 months [from May 2016] have been quite low in rainfall. We also had a very long and very hot summer. So I've been reducing my stock numbers because of the seasonal conditions and the amount of grass I had in front of me.
In April [2016], I still had a month's feed for the cattle. I'd already off-loaded 150 in February, so I had another 400 head in one mob.
I had a couple of options: I could've sold the lot; I could've sold all the weaners or sold all the cows, one or the other; or I could've bought in hay – I would have had to involve neighbours in that, because I have very little machinery.
The seasonal forecast outlook from Andrew Watkins at the Bureau [of Meteorology] was for a late autumn/early winter rain, which could be May, and it also gets colder then. This meant my ground cover would struggle to recuperate if I grazed it down.
About three weeks ago [late April, 2016] I went for a drive, and I thought, 'I'm not sure I'm making the right decision in keeping these cattle'.
So I sold all my cattle. They're all gone. I've totally destocked.
And that's really unusual to do in this region.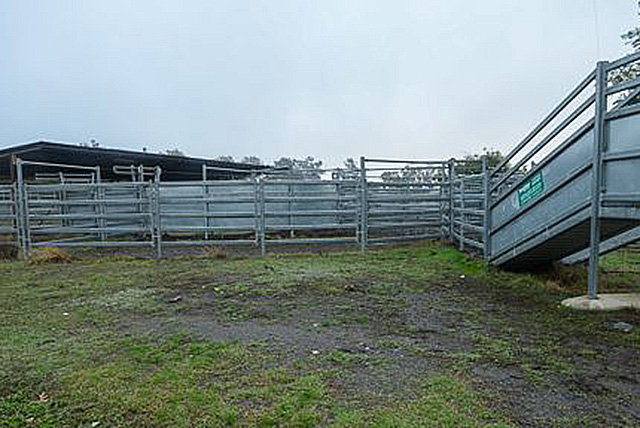 Empty cattle yards – another rare sight in this region, but a decision that Gillian says she is happy with.
Latest articles
Keep up with our latest news.
carleyalchin
Grazing and Cultural Burning field day Listening to the [...]
carleyalchin
Audio recordings from NEW FARM NEXT DOOR Regenerating farmscapes. [...]